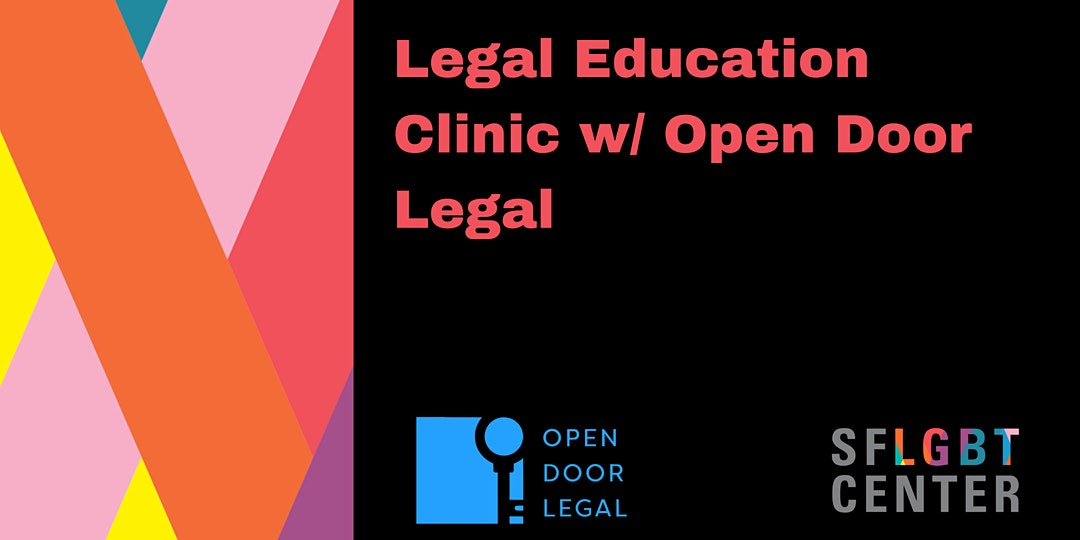 Legal Education Clinic
What.
An hour of legal updates on four important topics we are facing during COVID19 pandemic and the racial justice movement we are experiencing.
When.
Wednesday, August 26 | 2:00 PM – 3:00 PM
Where.
Virtual
We will be covering updates on:
Immigration Status and Applying for Unemployment Benefits, PUA and Stimulus Relief Checks

San Francisco's Eviction Moratorium and Rent Forbearance Rights

Know-Your-Rights During a Protest

Workers' Rights in the Gig Economy
We will be doing a 10 minute presentation on each topic with a 10 minute general Q&A. If you have more specific personal questions regarding the topic you can follow up with Open Door Legal after the clinic. We will be doing the presentations on each topic twice in the hour so folks can have the opportunity to hear updates on two topics of your choice. Please select the two topics you are interested in while RSVPing for the clinic through Eventbrite.
Please be aware that your attendance or participation at this event does not create an attorney-client relationship between yourself and the attorneys in attendance. Neither the attorneys nor Open Door Legal has agreed to provide you with legal advice or information beyond today's presentation. Due to the public nature of this event, any information you share will not be considered confidential. If you wish to discuss confidential matters, please contact Open Door Legal office at (415)735-4124 to make an appointment.
Open Door Legal's mission is to provide free legal representation, for all civil cases, to residents of the southeast side of San Francisco who live in district 5, 10, or 11. Open Door Legal represents clients in custody/visitation hearings in family law court, prevents illegal evictions, sues employers for illegal discrimination, files for changes in immigration status for individuals, assists clients in improving their credit scores, and helps with almost every other civil legal matter. Open Door Legal does not represent employers against employees, landlords, people needing help in criminal court, people needing to reduce parking tickets, or people needing help with child protective services matters.
Attorneys presenting:
Belinda Liu – Lead Immigration Attorney
Belinda is a San Francisco native and our talented immigration attorney. Her team assists those needing help with their affirmative immigration petitions and adjustments in legal status.
Dyne Biancardi – Housing Attorney
Dyne (pronouns they/them) is a housing law attorney at Open Door Legal who specializes in eviction defense litigation in San Francisco. They have been a proud San Francisco resident for about 10 years.
Devin Fathi – Housing Attorney
Devin is a housing law attorney at Open Door Legal. His practice includes eviction defense, but also helps clients out with public benefits work.
Lindsey Pace – Lead Employment Law Attorney
Lindsey leads the employment law team at Open Door Legal in pursuing claims against employers in San Francisco, both in superior court and in administrative hearings. She has helped clients with wage and hour claims, employment discrimination issues, sexual harassment in the workplace, and misclassification.
Tara Macomber – Senior Civil Litigation Attorney
Tara leads the civil litigation team at Open Door Legal, which covers the widest range of legal issues at our office. She has helped clients fight off debt collectors, file for bankruptcy, pursue or defend against claims for property damage or personal injury, resolve contractual disputes, and more.