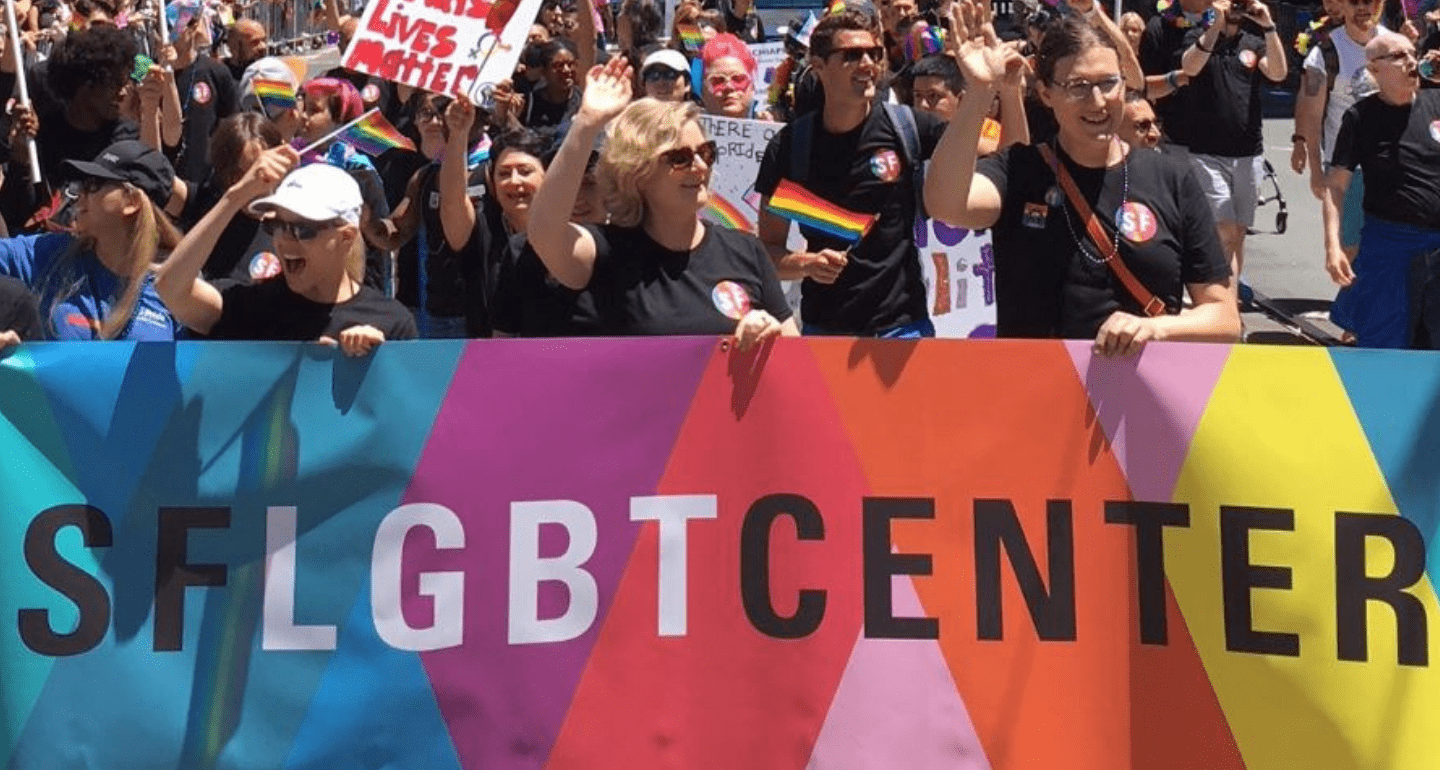 San Francisco Pride Parade
When.
Sunday, June 30 at noon
Where.
Meet at Main Street between Market and Mission (Contingent #132)
RSVP.
www.sfcenter.org/Pride2019RSVP
Join the SF LGBT Center contingent on Sunday, June 30, 2019, as we proudly march in the San Francisco Pride Parade and celebrate Generations of Resistance!
ASSEMBLY TIME/LOCATION UPDATE:
To march with the Center, you must arrive in our assembly area before 12:45 PM. You can join us as early as 10:45 AM to hang out and mingle! Please allow plenty of time to find our group… it's a crowded assembly block. *The Center's contingent number is 132. Our meeting location is on Main Street between Market and Mission.* If you have trouble finding us on that block, stop and ask groups their contingent # because groups line up in # order! Look for a white pick-up truck with rainbow decor, thanks to a generous donation by Zipcar.
Center Pride Shirts: The first 100 people who sign up on Eventbrite will receive a t-shirt. T-shirts will be distributed at the Parade meeting point on Sunday and will not be held for no-shows. No exceptions!
Accessibility: For marchers who have mobility/accessibility needs, the Center will be operating a vehicle that people can ride in for the entire or a portion of the march. Seats are not guaranteed, but will be prioritized for those with physical needs. The Center contingent will also provide snacks and water.
Volunteers: Our contingent will need a few volunteers to act as contingent/wheel monitors during the march. If you are interested in training to be a contingent monitor or wheel monitor for our vehicle, please indicate that when signing up. This volunteer role requires staff approval and an online training video/quiz.
General Pride Information:
SF Pride Parade takes place Sunday, June 30, 2019.
The Parade begins at 10:30am at Beale and Market.
The Parade ends approximately at 3:00pm at 8th and Market.
The Center will be operating a vehicle for contingent members who need to be seated during the parade (space is limited and RSVP is required!)
Tips for marching with the Center at SF Pride:
Arrive at the designated meeting area by the stated arrival time (both will be emailed to you a week prior)
Bring water, but no glass bottles.
Wear comfortable shoes!
Wear/bring sunscreen and a jacket!
For more information or if you have any questions about marching with the Center, feel free to email volunteer@sfcenter.org.
Thank you and happy Pride!