Host Homes: Frequently Asked Questions
What is Host Homes?
Now in its second year, Host Homes matches San Francisco volunteer hosts with LGBTQ+ young adults (ages 18 to 24) who need stable housing for a period of three months to one year. During this time, the young adult pursues their education and employment goals alongside support from our case management team and is then positioned to find their own housing after the program period ends. The young adult participants have previously experienced unstable housing situations like couch surfing, sleeping in cars, and living in non-affirming households.
In San Francisco, almost half of youth who are homeless or in unstable housing situations are LGBTQ+, and the pandemic has created even more vulnerability for them. Everyone deserves to have their fundamental needs met so that they can move beyond survival and thrive. To learn more, join an upcoming info session, here.
How will the youth and I be matched?
Host Homes staff will work diligently to ensure that matches between hosts and guests are made based on aligned values, interests, and lifestyles. Host Homes staff will use youth and host applications to find commonalities among the two, allow the individuals to meet, and then determine if they are the right fit. Our aim is to create pairings that are mutually beneficial both to the host and the guest.
Please see our matching process below: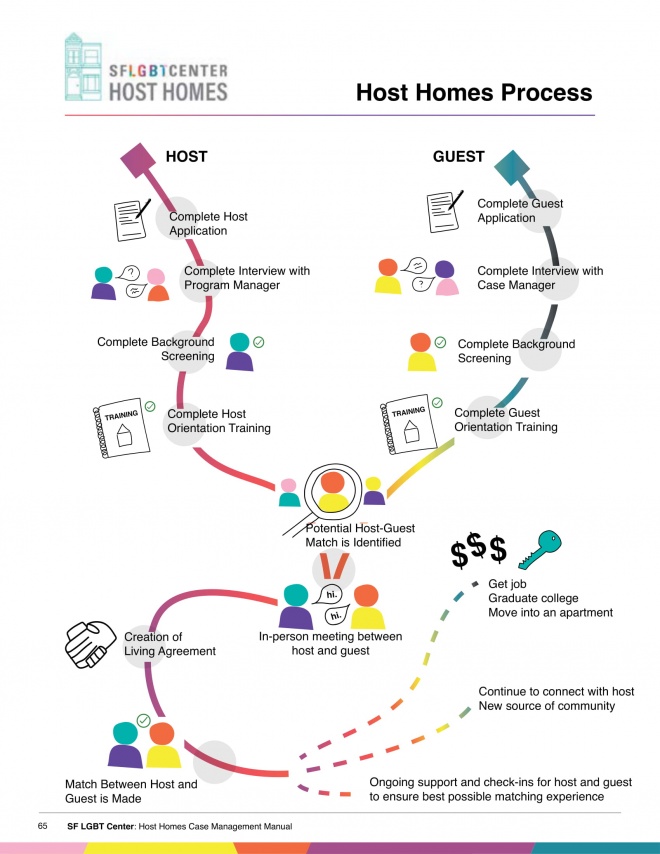 Am I expected to provide food or anything else?
No, hosts will not need to provide youth with food. The only ask is that hosts provide youth with access to a private room, bathroom, and a kitchen. Youth will receive food stipends from the SF LGBT Center, apply to Cal Fresh, and be able to access local food banks.
What support will I receive from the SF LGBT Center while hosting?
Hosts can expect to receive the following support from the SF LGBT Center:
A check to reimburse hosts for any shared utilities
Monthly Gift cards for shared meals to go grocery shopping and purchase food through delivery services like Grub Hub or Door Dash
Virtual check in visits with their Guest and the Host Homes Coordinator to discuss the pairing and to work through any challenges that may arise
Opportunities for community meetings to connect with other hosts to discuss questions, concerns, challenges, and rewards of working as a host
What kind of behavior is expected from Hosts while participating in the Host Homes program?
Hosts are expected to provide a welcoming, stable, and secure living environment for Guests
Hosts are expected to respect the rights, privacy, culture, and background of Guests, including their religious and political beliefs
Hosts are not to engage in any relationships of sexual or romantic nature with their Guests or display behaviors that may be misleading or confusing
Hosts should act as a model of the behaviors we ask Guests to display (for example being aware of their own substance use)
What kind of behavior is expected from Guests while they are in their host home?
Guests are expected to be respectful of the privacy, rules, routines, and beliefs of their Hosts
Guests are not to engage in any substances in the home unless otherwise stated in Host-Guest living agreement
Guests are not to smoke in host homes unless otherwise negotiated in the Host-Guest living agreement
Guests are not to have any overnight visitors and are to identify day visitor policy with their Host in the Host-Guest contract unless otherwise negotiated in the Host-Guest living agreement
What are the minimum requirements for a Host to participate in the program?
SF LGBT Center asks that hosts meet the following minimal requirements:
Host has an extra bedroom or space that can be turned into a private bedroom
Host provides guest with access to a kitchen in which to prepare meals and access to shared or private bathroom
Host lives in San Francisco
Host commits to hosting youth Guest for 3-12 months
Host has verifiable renters/homeowners' insurance
Host completes home screening and is approved by Host Homes staff
Host completes an application, interview, and home screening
Host attends a Host Homes training
Host completes check-ins with the Host Homes Staff
Host commits to providing a welcoming, safe, non-judgmental environment and to supporting the self-determined goals of guest
What are the minimum requirements for a Guest to participate in this program?
SF LGBT Center asks that guests meet the following minimal requirements:
Guest is between 18-24 years old
Guest is interested in short-term housing while creating a plan for self-sustaining, long-term housing
Guest actively engages in Host Homes onboarding procedures including interview, TB test, and training
Guest is approved and screened by Host Homes Staff
Guest is interested in seeking employment or educational opportunities
Guest participates in matching process with SF LGBT Center staff
Guest engages in weekly case-management with the Case Manager
Guest commits to no overnight guests and no substance use in the host home unless otherwise stated in their Host-Guest contract
Guest commits to conducting themselves respectfully and thoughtfully, and to communicating openly and often with Host and SF LGBT Center staff
What happens if we don't get along?
The SF LGBT Center is committed to the success of the Host-Guest relationship. SF LGBT staff has designed a program that will enable Host-Guest relationships to overall be positive ones. When conflict does arise, SF LGBT Center asks that both Hosts and Guests engage in direct and respectful conversation to come to a resolution. If additional support is needed, the Host Homes Program Manager is readily available to assist in conflict mediation and resolution.
In the case that all attempts at conflict resolution are made and the Host-Guest relationship continues to suffer, the SF LGBT Center will work to place a Guest in a new host home or other housing situation. Given that the Host Homes Program is voluntary, and that Hosts, and Guests are entering into it on a voluntary basis, any party may end their participation at any time. In the event of an early end to program participation, we ask Hosts to give SF LGBT Center staff two weeks to work to identity another living situation for the Guest.
Where will the young person live after their stay with me?
The overarching goal of Host Homes is that youth utilize their host home as a launching pad to independence to live in stable housing post the program, Case managers will work with youth to develop educational, vocational, and housing plans, which in addition to their temporary housing will support youth in securing permanent housing post-Host Homes. After exiting the host home, youth continue to work with Case Managers for up to six months.
If I am a renter, can you help me negotiate hosting a youth in my home?
Since Host Homes staff are not lawyers, we will not be able to provide legal advice for your individual renter's needs. However, we will provide general information to support hosts in how to navigate conversations with landlords about a youth moving into their homes short term. We will also provide resources and referrals to outside renter's rights services to support hosts in doing their own research prior to making a commitment to host a youth.
What legal protections exists to protect program participants?
The SF LGBT Center created a waiver of liability in partnership with the Baker and McKenzie Law firm that ensures that everyone is protected while in the Host Homes Program against any negligence and harm. Under this waiver, we also ensure that youth who are living with hosts are not considered tenants under San Francisco law. Under the waiver of liability, the SF LGBT Center, hosts, and guests can decide to no longer participate in the program.
How are hosts and guests supported during the Covid-19 pandemic to safely live together?
The Host Homes Program at the SF LGBT Center acknowledges the impact that COVID-19 has had on members of the San Francisco community and the pandemic has revealed the importance of the Host Homes program during these times to meet the continued need of LGBTQ+ unhoused youth to receive stable housing to keep them safe and healthy during this time.
We also recognize the inherent risks for hosting a young person that COVID-19 can elicit on potential volunteers. We created a Covid-19 document that is a list of guidelines that we are issuing to keep our volunteers and young people healthy as they prepare to move in together. We want to respect that each host will have their own set of house rules and needs a part from what we have as protocol and want to leave room for hosts to provide guidelines around this that we will uphold in the living agreement that both parties sign before move-in occurs.
We take the health and safety of our volunteers and guests seriously and are committed to ensuring that we do everything to follow local and state guidelines that provide us with best practices during this pandemic.
Our Covid-19 policy provides the following guidance not limited to the following:
Administering COVID-19 screenings
Free SF testing resources
Free SF vaccine resources for individuals 65+
Distribution of PPE including masks and disinfectants at move-in and throughout Host Homes stay
Facilitation of living agreement process that includes written rules and discussion to establish guidelines during Covid-19 (policies around guests, sharing house items, etc. are included)
Review of best practices to maintain healthiness during Covid-19
Hotel accommodation to guest if exposure to Covid-19 found or support in helping guest isolate in bedroom with access to food and health resources.