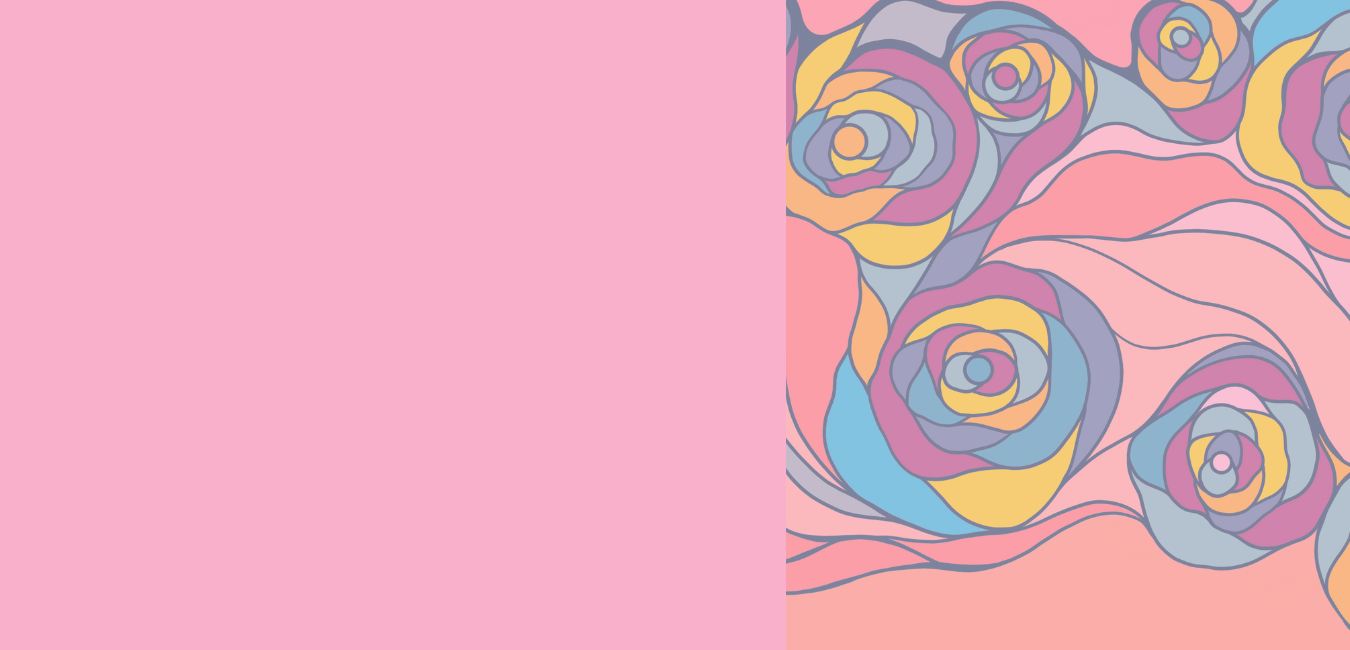 In celebration of Asian American and Pacific Islander Heritage Month and Phoenix Song's upcoming Queer & Well: Free Your Voice offering at the Center, we sat down with Phoenix, to learn more about their connection to expressive arts, singing, and how they help others free their voices.
Phoenix is a Korean American, non-binary expressive arts facilitator and healer, who is helping community members connect deeply and work through grief in a playful, supportive environment with voice work, creativity, music, and sound healing.
Check out Phoenix's upcoming Queer and Well: Free Your Voice offering and learn more about their work on their website!
[Note: The interview is edited for clarity and brevity]
+++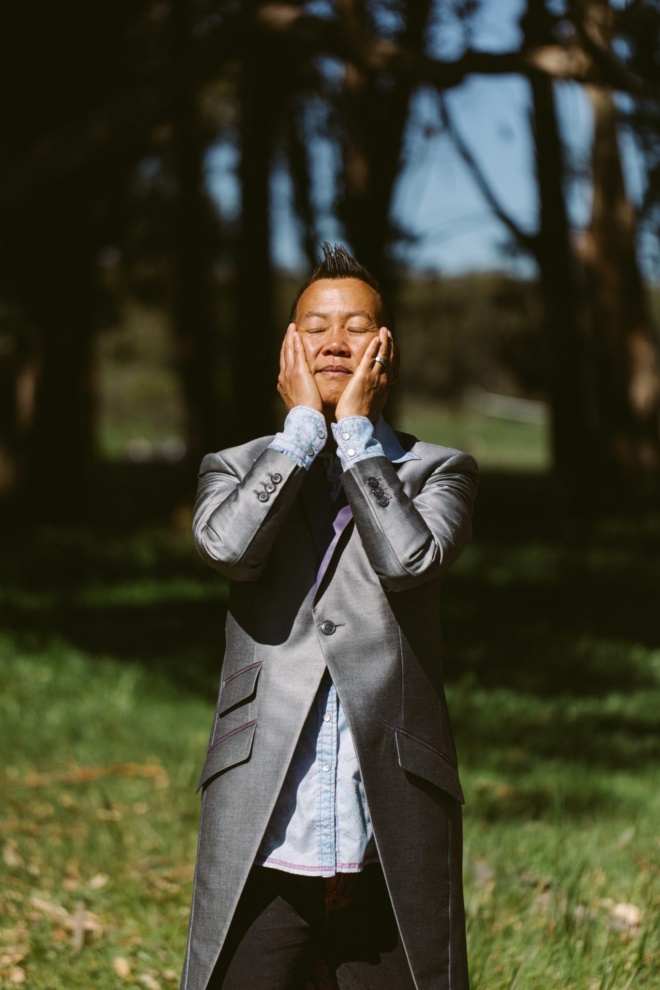 How has your queer non-binary, gender expansive, as well as Korean American adoptee identities influenced your journey, and the ways you create?
Phoenix: I was adopted into a white family. For the first 20 years of my life, I didn't feel like I had much race consciousness. I knew I was different, but that difference was incredibly painful for me to accept. There was a lot of internalized self-hatred and self-loathing until I connected with an Asian American student mentor and began taking Asian history courses. Another critical part of my experience was six years ago, when I came out as non-binary. This was another difficult and enriching journey to undergo.
Ultimately, I grew up shut down in my ability to show up vocally in the world, so for the last 25 years, my journey has been about telling my story and making creative work. These practices have saved my life. This was a way for me to release everything that was building inside me—to get it out into the world, to feel seen, heard, and loved.
Do you recall, the first experience you had, or when it clicked for you that creativity and the ability to express yourself was the direction you wanted to go in?
Phoenix: I did a three-year expressive arts training program in 2011 at the Tamalpa Institute, where every month, we focused on exploring a different body part. We excavated stories, performed, wrote, and tapped into movement and sound.
That program got me in my body, at a time when my body was the last place I wanted to be. I slowly started to reclaim my body and find home in it. I want to offer these embodied, creative practices for others to find home in their bodies, too.
You believe that our body holds our deepest wisdom and healing. Can you say more about that belief, where that stemmed from, and why you believe that?
Phoenix: We live in a very "heady" society, which loves for us to think and analyze, to not feel or move. I feel like the body, it holds both our trauma and our healing and wisdom. We're not trying to get rid of our grief-it's about building a spacious container to hold all of it. Instead of wishing things away, let's, "breathe in some room for it and maybe this thing which has been causing pain, can become a source of compassion as we integrate it into our lives." That's what I mean about the wisdom of the body, we store everything in our body.
For folks who want to learn more about what it's like to take that first step to "freeing your voice", what are some of the tools or practices you would encourage them to start with on their journeys?
Phoenix: Start by yawning in the mornings. We hold so much tension in our jaws and neck, and yawning helps to release all the tension that we hold in this part of the body. While you yawn, add sound to it. This exercise can be very clearing.
Also, practicing steady vocal toning can help focus our mind, breath, and attention. You could start with a simple, "ahh", which could help calm and stabilize your breath, body, and mind. Whenever we take long exhales, the parasympathetic part of the nervous system kicks in to regulates you and calm your nervous system down. For people who are new to this or are feeling fear or timidity, start by asking yourself, "can I take one conscious breath and make a sound with it", and then "can I not judge what comes out of my mouth?" Just start where you are and see what wants to release, what other layers await. After five years of singing, I finally accessed joy. It took a long time because I had so much rage and pain to release.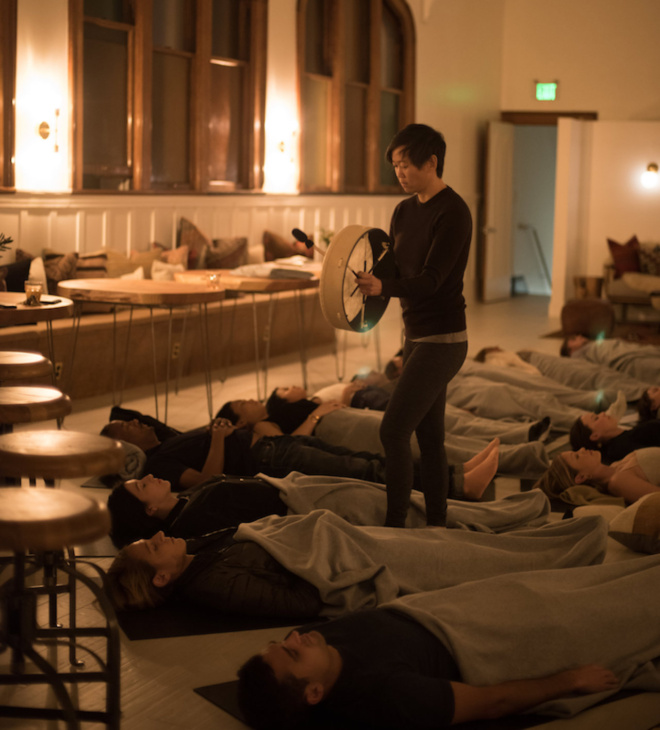 What can community members expect from your May Queer and Well offering? For folks who are looking to join you and to participate in all your beautiful offerings, do you have any initial reflections or asks?
Phoenix: When we are speaking or singing, that instrument is our body. I will give a technical and functional overview of your body instrument and how to use it safely and healthily. I'll help folks drop into the body with sound meditation and singing. We'll go on an emotional journey, playing with our intentions, thoughts, sounds, and music to shape the consciousness of our bodies.
This workshop is a great opportunity to free your throat chakra, make some sound, be authentic, and play in community together.
Do you have any final reflections on these types of Queer-led spaces or ruminations on AAPI heritage month overall?
Phoenix: Asian Americans are not a monolith, but many of us have been socialized to be quiet, not speak up, and not cause trouble. This month is a warm invitation to everyone, and particularly for Asian American people, to free our voices, make some noise, reclaim our birthright that all of us can sing, and be heard and witness each other in love community. I love working in queer and trans spaces to make our voices heard and delight in our beautiful expression.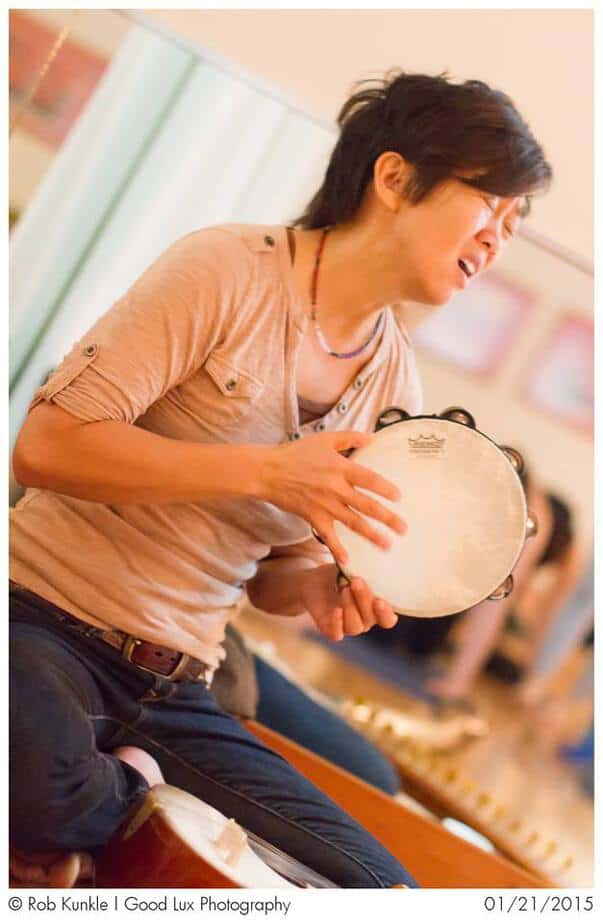 Back to Blog