"Each of us has something we can give"
What I've Learned: Each of us has something we can give
Guest post by

Alex Carranza,

Community Programs Participant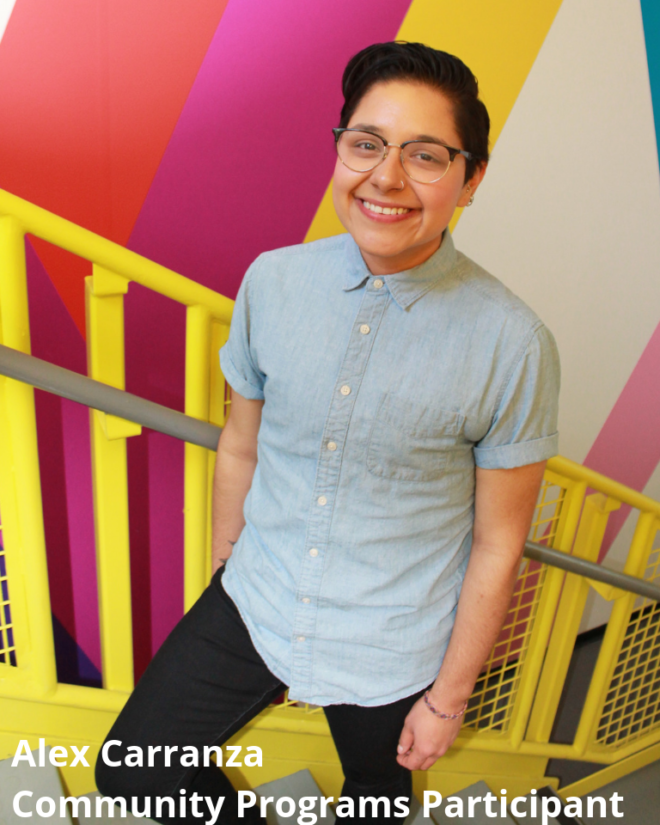 I grew up in an environment where it wasn't safe to be queer. My family was part of a low-income Latino community in northeast Los Angeles and wasn't particularly gay- or genderqueer-friendly. I spent 13 years in Catholic school without sex education classes or safe opportunities to explore sexuality or gender.
When I turned 18, I moved to San Francisco. But despite landing in one of the world's most inclusive cities, I struggled to find my place in the queer San Francisco social scene. It was disheartening that entry to our community is usually through drugs and alcohol; I didn't know how to meet people, and I needed to find community in a healthier space.
My search for a healthy way to connect and contribute to my community led me right to the SF LGBT Center, where I was welcomed with open arms.
I volunteered and then interned with Information & Referral Services, and was impressed by the resources available to various LGBTQ people. Overall, the Center connects more than 2,400 community members each year to crisis support, housing, mental health, employment, legal, and other social service programs throughout the Bay Area… and that's just one of the many services the Center provides.
And now, as a visibly-queer adult preparing to seek out employment after graduate school, I am so grateful to have the Trans Employment Program and Job Club, part of the Center's Economic Development Services (which serves more than 3,000 people each year!).
Demand for this type of assistance is growing as the Bay Area faces an affordability crisis. Will you join me in supporting this critical work?
The Center helped me find my place in our community. And I've learned something profound and fundamental from this work: each of us has something we can give to uplift our community. For me, it's my time. For you, it may be a donation that supports the critical programs here at the Center.
Will you make a contribution today so that the Center can help people like me find community? Make your gift during Pride season and every dollar donated up to $10,000 will be MATCHED by a generous donor.
Thanks to you, the Center has been a lifeline to many community members. Your generosity has helped transform thousands of lives through greater access to critical resources, opportunities for connection, and community building. Your gift today is essential to this vital work.
Back to Blog