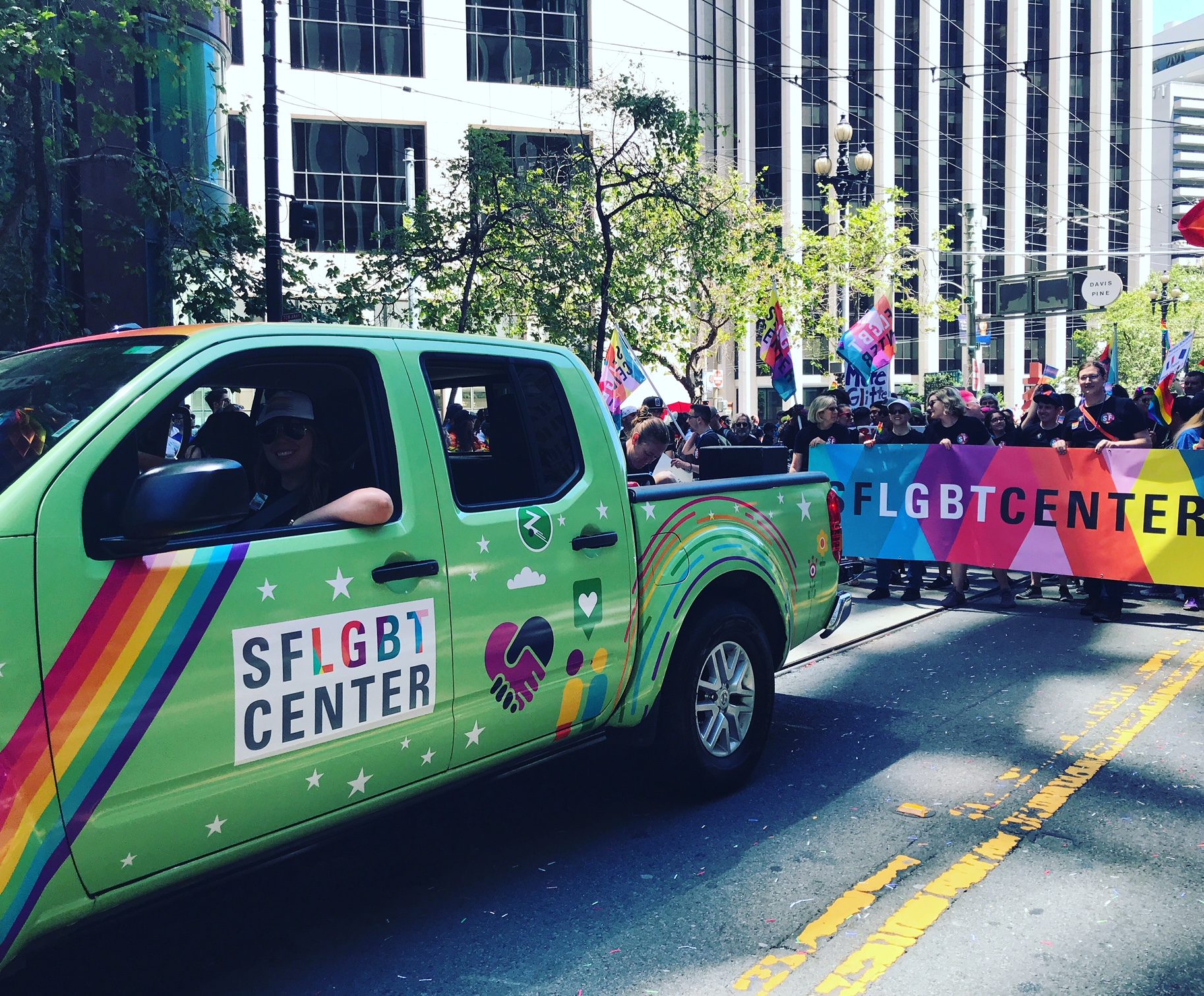 Overview
The SF LGBT Center is not just the bright purple building that catches your eye at 1800 Market Street, it is a focal point for the LGBT community of San Francisco, where individuals who need resources, support, or a safe space to gather can find comfort and celebration.
Our mission is to connect our diverse community to opportunities, resources and each other to achieve our vision of a stronger, healthier, and more equitable world for LGBTQ people and our allies. We host over 200 programs and welcome more than 9,000 individuals each month, in addition to providing affordable office space.
The Center works to strengthen our community by fostering greater opportunities for people to thrive, offering aid in organizing for our future, celebrating our history and culture, and ultimately building resources to create a legacy for future generations. The Center is sought out as a collaborative leader and partner, leveraging the work of community-based organizations through active engagement with over 70 local organizations.
As the only non-profit in San Francisco serving all members of the lesbian, gay, bisexual and transgender communities, the Center plays an important role as the physical and spiritual home for LGBT culture, and is vital to the ultimate survival of our identity as a community. After opening its doors in 2002, the Center has established itself as a cornerstone of the LGBT community with an impact that goes beyond its direct services.
Despite gains in social understanding and approval for LGBT people over the past several decades, members of the LGBT community continue to face both individual and systemic discrimination. The Center's critical safety net programs serve the most vulnerable members of the community – people of color, transgender, lesbian, and bisexual women, differently-abled people, youth, elders, immigrants, and low-income individuals – who often experience additional, intersecting forms of discrimination.
The Center is truly the heart, home, and hands of the San Francisco LGBT community.
Programs and Services
As San Francisco's only organization serving the full spectrum of LGBT communities, the Center is a vital hub for providing access to information and resources that address the needs of the LGBT community.
The Center innovates powerful human service programs to meet changing community needs, to address problems that have been neglected, and to shine light on our culture and community in new ways.
Each year, the Center welcomes over 100,000 visits and provides direct services to nearly 12,000 people, prioritizing programs for the most vulnerable among us. We serve the full ethnic/racial, economic, geographic, age, religious, and cultural diversity of the Bay Area. We have 1,000+ volunteers and partner with dozens of local organizations. Our strategy has been to work closely with existing community organizations to identify gaps in services that we can fill and create timely initiatives where the Center's community-wide reach brings added value.
Our major program areas are:
Economic Development
Youth Program
Community Programs
Building Services
Leadership
In March 2008, Rebecca Rolfe was hired as Executive Director, before which she served as the Center's Interim Executive Director and Deputy Director for four years. She spent eight years prior to that as San Francisco Women Against Rape's Executive Director. Our executive team reflects our community's diversity, including people of color and transgender individuals. They have a solid track record of professional management, financial control, fundraising leadership and program success.
The Center's staff is supported by a dedicated board of directors, who are involved in all aspects of the Center's work, from voluntarism to event planning, development and operations. The Center's leadership strength is represented by its community ownership. A broad and diverse group of more than 700 community volunteers are actively engaged in our work, significantly expanding the service reach of our 40 member staff.
Your Support
The Center is more than a building, more than a collection of programs and people. It is a symbol that represents a belief in civil rights, freedom of expression, and an inclusive community for all people. These are fundamental San Francisco values, and we believe fundamental American values. Your donation is an investment in making this shared dream for a better future true today. To learn more about individual donor, corporate sponsorship, foundation funding or volunteer opportunities visit us online at www.sfcenter.org or call our Development Director at (415) 865-5552.
---
"The Center has given me a different perspective on being gay in San Francisco. I was disappointed with most of what I had experienced as community in San Francisco until I started volunteering at the Center."
- Thomas