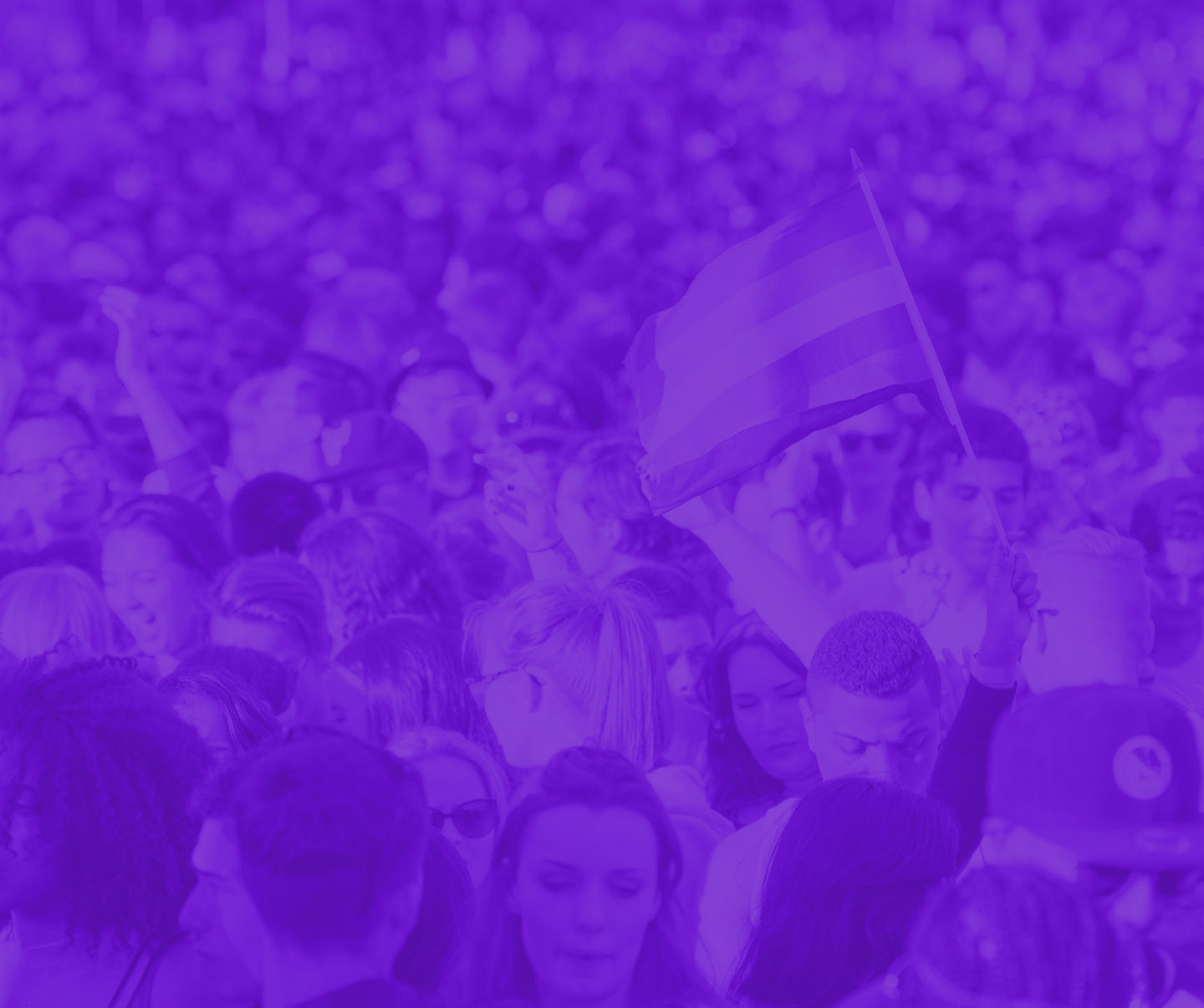 Inside the bright purple
building at 1800 Market St.
---
Mission
The mission of the SF LGBT Center is to connect our diverse community to opportunities, resources and each other to achieve our vision of a stronger, healthier, and more equitable world for LGBT people and our allies.
Our four priorities are to:
Foster greater opportunities for people to thrive
Organize for our future
Celebrate our history and culture
Build resources to create a legacy for future generations
---
History
Opened in 2002
For more than 15 years, the Center has been a place to celebrate our victories, mourn our losses, and plan for the future. In April 2017, we inaugurated a state-of-the-art building—a $10.3 million remodel primarily funded by New Market Tax Credits. This landmark event breathed new life into the physical space and created financial sustainability for our next chapter. Today, we are the only non-profit in San Francisco serving all members of the lesbian, gay, bisexual and transgender communities.
---
Our Values
Belonging: We remember our roots as being a place of hope and sanctuary for queer and trans people, and we strive to center those who are most marginalized within our community to create a culture that welcomes us all. 
Connection: We value our interconnectedness and interdependence through sharing our stories and practicing radical empathy. We communicate clearly and transparently.
Integrity: All of us at the Center—staff, volunteers, and board members alike, seek to be in an accountable and reciprocal relationship with the communities we serve and come from. We carry our distinct roles of service and stewardship of resources transparently and with great responsibility.
Respect: We value treating each person in a way that acknowledges their dignity, humanity, and wholeness. 
Equity: We believe in a set of social justice practices rooted in a solid understanding and analysis of historical and present-day oppression, aiming toward a goal of fairness for all. 
Service: We believe that everyone deserves access to economic stability, dignified housing, quality healthcare, resources, community, and opportunities for healing. We provide and connect the most marginalized to programs that help individuals and communities thrive.
---
Culture
A home for LGBTQ+ culture
Our 35,000 sq. ft. building on Market Street is a focal point in San Francisco, where LGBTQ individuals need resources, support, and a safe space to gather, find comfort, and celebrate.
Upon arrival, individuals can find information on free services such as career counseling, job fairs, a computer lab, social activities, mentorships, and various workshops.
---
Book Space
Space for events of all sizes
Our recently-renovated building offers multi-purpose space for groups up to 500; great for retreats, presentations, and parties. We offer competitive rental rates and deep sliding scale discounts for nonprofits. We are centrally located off Market St, close to the Mission, Hayes Valley, Civic Center, and Castro neighborhoods.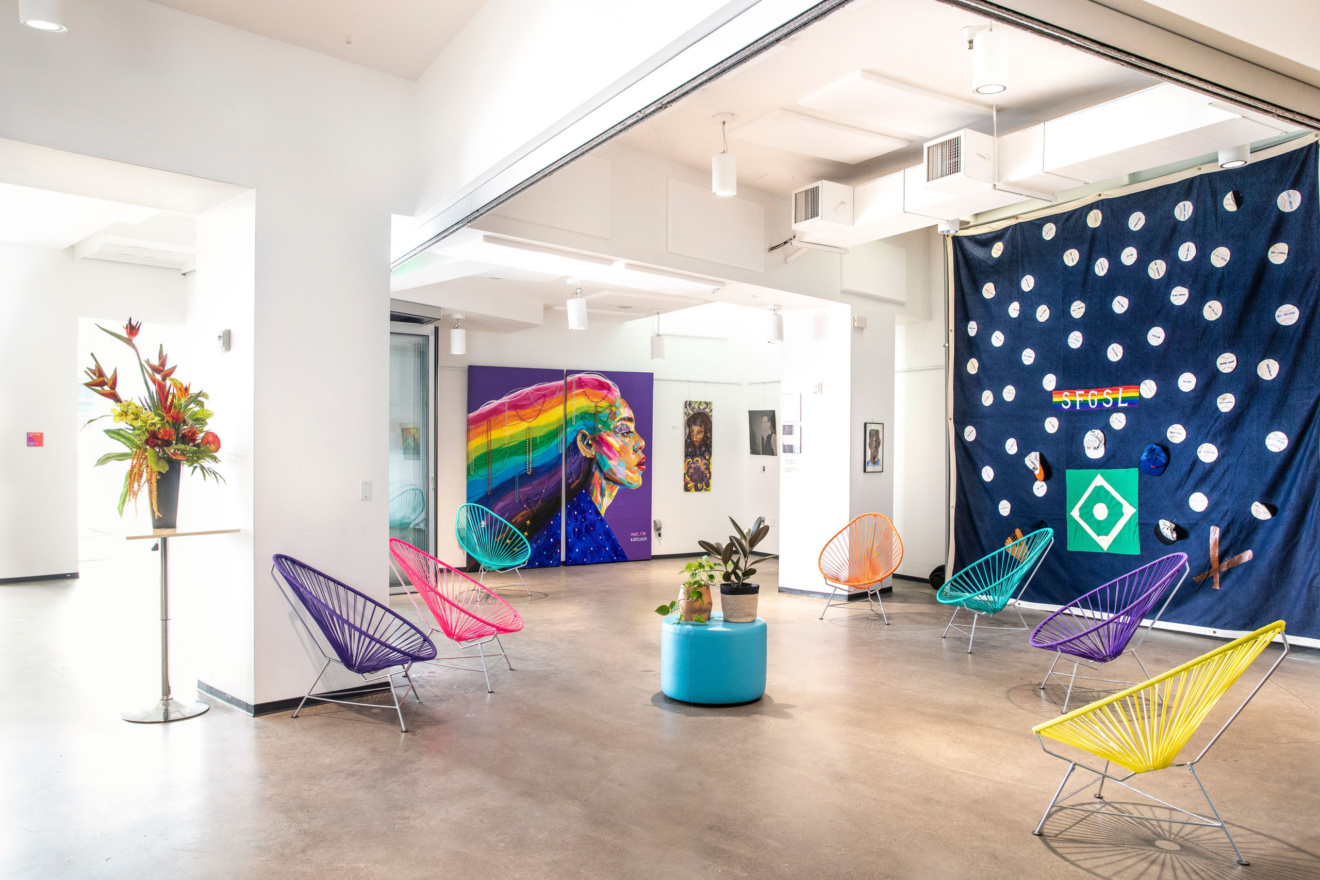 The Gallery
A super dynamic gallery space can be open or closed off from the lobby with reconfigurable walls. This space features art installations and is open to the public when no events are booked. View Details
---
---
---
Work at the Center
View our list of open positions here.
---
Finances
Financial Transparency
We know it's important to you that your donation is being used effectively. It's important to us, too. That's why we work hard to receive the highest grades available for accountability and transparency.
---
How to Get to the Center
Please use public transportation to access The Center. Limited street parking available
The MUNI METRO LINES J,K,L,M,N, the F STREETCAR, or MUNI BUS LINES 6, 9, 14, 21, 47, 49, 66 and 71 all run within 5 blocks of the Center, many run within 1 block. Also, take BART to SF Civic Center, then transfer to Muni Metro or F lines.
For more information or to plan your transit door-to-door visit San Francisco Muni or the Bay Area Transit Trip Planner.
If you do drive, please be considerate of our neighbors and do not block driveways or park in blue or white zones.