This partnership with the Center was a beautiful opportunity to share my song and to be a part of building new pathways for future artists.
I've been in the music world all my life. I began my musical journey writing songs at a very early age with a guitar that was given to me by my grandfather. I discovered my passion for singing later in my teenage years. When I tapped into my voice, I knew it was the clearest way I could express myself and would lead to longevity in my music career. To this day, I'm so grateful to receive that vision. I've been performing for over a decade, held seven musical residencies, and I teach music across the Bay Area.
When the pandemic hit, many of us artists lost our gigs and struggled to find work. In 2021, Timothy Hampton, the Center's Associate Director of Cultural Programs, reached out to me about performing for the Center's new Queer Vibes program that would showcase rising local queer singers, bands, and spoken-word artists through a celebratory platform where we could share our gifts. I knew I needed to be a part of Queer Vibes and I'm so proud to have been its inaugural artist.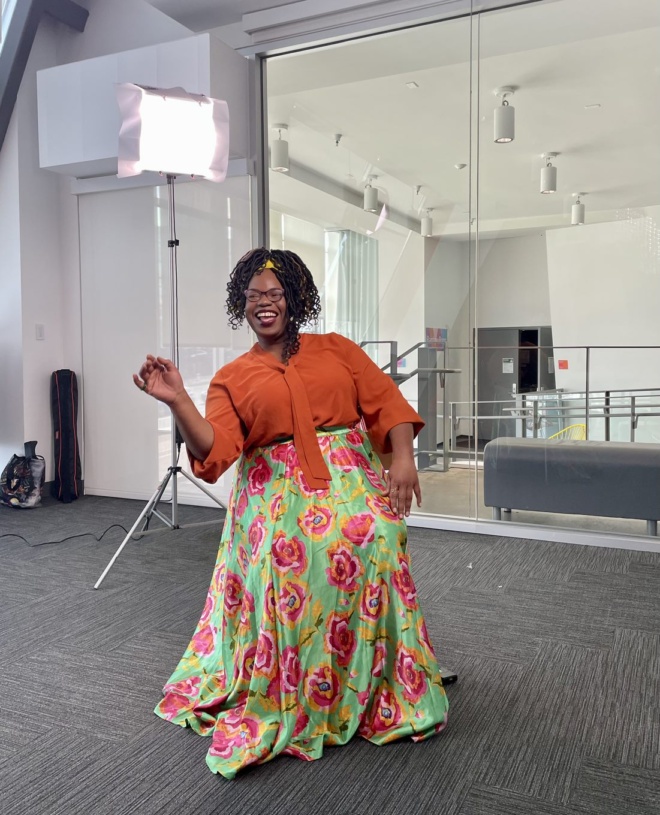 Performing for the Center's Queer Vibes program felt like being at home with family. I sincerely appreciated that because not every experience I've had as a performer has felt safe. When you've faced so much adversity as I have, it makes it much easier to recognize when you are in a space that actually welcomes you wholeheartedly.
So many great singing opportunities came from the visibility I gained through that performance. More beautiful doors opened. For example, I sang at the 2022 SF Giants Pride Day Game, closed the program at Trans March, performed at the Alice B. Toklas Pride Brunch, and more.
By being the first artist to grace the Queer Vibes stage, I hope I have inspired hope. The Center's focus on supporting artists is so critical because the arts are not a part of the human experience rooted in survival—they are transcendent of survival. The arts are hope in perpetuity.
Especially when institutional funders continue to undervalue arts and culture programs, the Center critically relies on the generous contributions of individual community members to keep its arts and culture offerings alive.
The Center provides transformative programs for LGBTQ+ artists like me. Can you make a gift today to ensure the Center can continue providing essential resources that keep our community vibrant?
Looking back at my Queer Vibes experience, I smile with pride and joy. Joy is an unstoppable force of love, endearment, resilience, and community. I sincerely thank the Center for everything they do for our community. I don't think people realize the importance of having a resource like the Center for the underserved, overlooked, and underloved in our society.
This partnership with the Center was a beautiful opportunity to share my song and to be a part of building new pathways for future artists.
In community,
Tory Teasley (she/her)
Arts & Culture Program Participant
Back to Blog