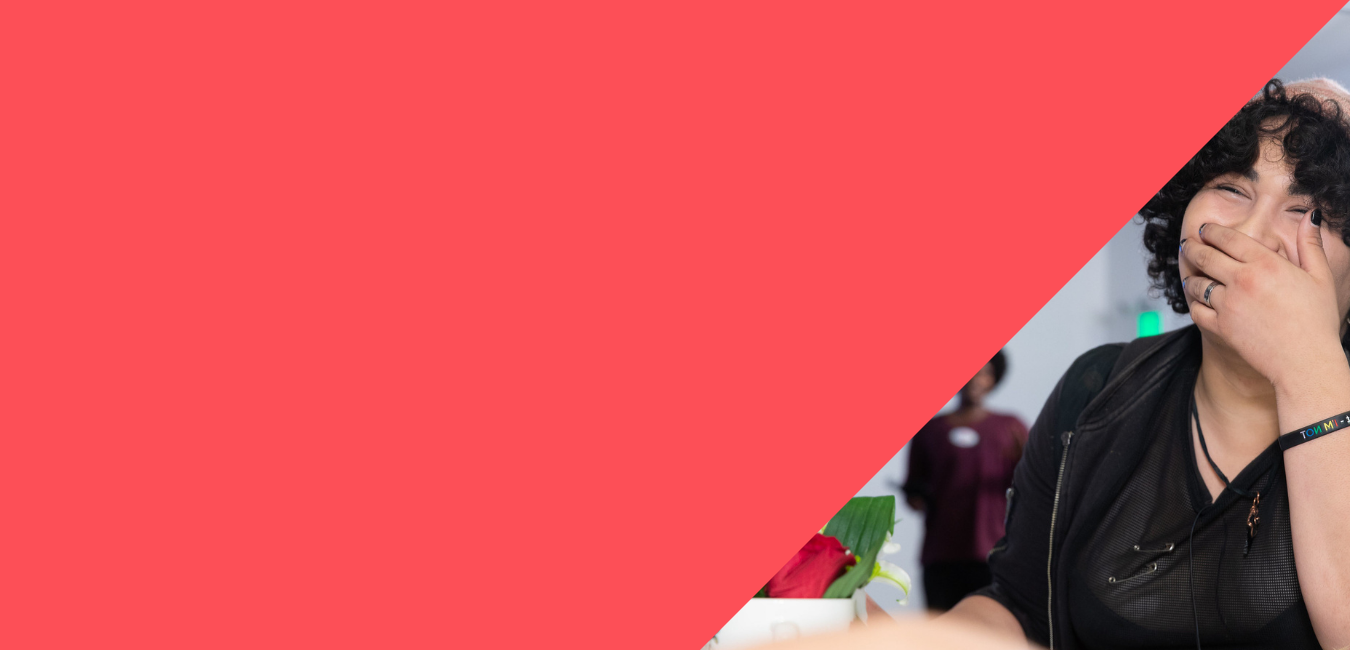 Youth Services: Mental Health Department
---
Overview
The SF LGBT Center's Mental Health Department provides FREE and confidential bilingual (Spanish) and bicultural (Latinx/American) holistic gender-affirming mental health services for LGBTQ+ youth, primarily between ages 16-24, in partnership with the SF Department of Children Youth and their families, San Francisco Health Network, Behavioral Health Services, and Mental Health Service Act of San Francisco.
We aim to reach LGBTQ+ youth currently facing barriers to accessing holistic mental health support. Currently, we support a high percentage of gender-expansive—transgender, non-binary, gender nonconforming, gender questioning—participants seeking gender-affirming therapy. Clients in the program work with our mental health specialists for as long as they need to reach their goals. For clients aging out of the program, we provide vital resources to ensure support for them in finding a new line of care.
Our department takes a client-centered approach to services by providing an accessible, safer, and inviting on-site environment that shifts away from traditional clinical settings. Our services are rooted in culturally responsive, trauma-informed, and restorative justice-based mental and behavioral health practices.
---
Our Services
We provide the following services at no cost:
In-person or virtual 1-on-1 appointments and consultations with our mental health specialists
Mental health services such as therapy, case management, and crisis management
Written gender-affirming letters for clients in need
Mental health referrals to other agencies, as needed
If you are interested in scheduling a consultation to discuss your mental health needs and care options, email youthmentalhealth@sfcenter.org. From there, our mental health specialists will reach out to you to determine potential next steps.
Mental Health Drop-In Space
Facilitated by our mental health team, our drop-in services will be in-person at the Center every Tuesday and Thursday between 3-5 pm PT.
This drop-in space aims to support LGBTQ+ youth who may be experiencing mild to moderate mental health symptoms like anxiety and depression. We'll navigate life topics like transitioning, gender exploration, coming out, building self-esteem, and navigating relationships and conflict, among other situations.
We'll see clients on a first-come, first-serve basis. For more information, don't hesitate to reach out to us at youthmentalhealth@sfcenter.org or drop by our mental health drop-in hours to speak to a youth services team member.
Group Therapy Services
We're offering weekly, group therapy services for LGBTQ+ youth ages 16-24 in a variety of topic areas such as anxiety, depression, and managing stress.
Potential clients will participate in a brief assessment call before joining. If you're interested in learning more, reach out to youthmentalhealth@sfcenter.org.
Additional Department Resources
Care Plans: Our team created a downloadable Care Plan form to support folks in streamlining care information that may be useful to have in one place during times of crisis. This plan can also be shared with support teams and others as needed. We've also included various support references within the form, such as call and text support lines, that may be helpful for community members who may be experiencing a mental health crisis.
Are you looking to create your care plan? Check out these example documents to help you get started: Standard Care Plan and Care Plan – 16pt. font.
Note that these example documents serve as templates, so feel free to get creative and personalize your plan according to your individual needs.