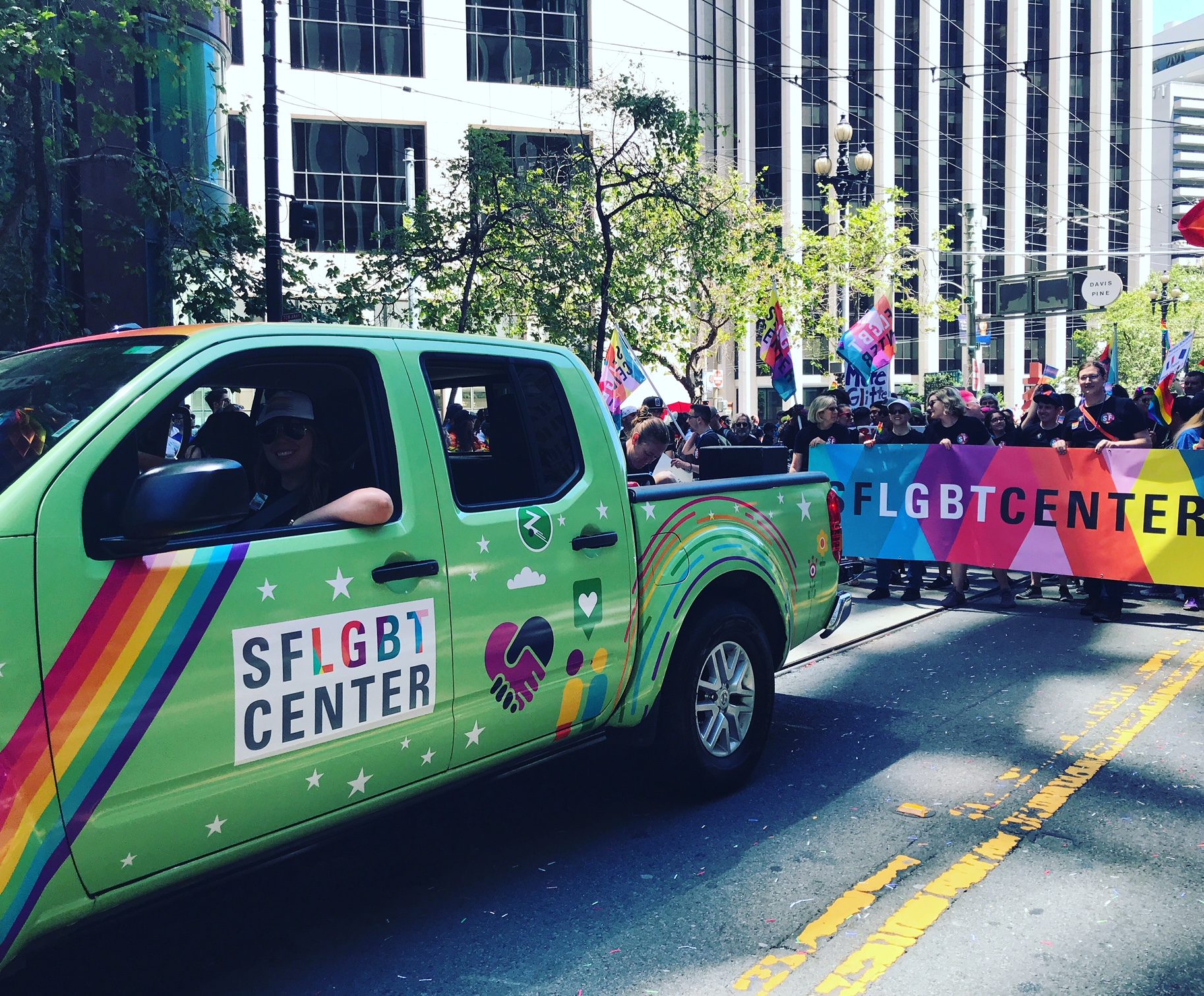 SF LGBT Center at Pride 2018
THANK YOU TO ALL WHO PARTICIPATED!
The 2018 San Francisco Pride March took place Sunday, June 23.
The SF LGBT Center would like to thank everyone who joined us and all of the volunteers who helped make it a success. The SF LGBT Center proudly had over 100 participants walking with us, including the French Minister of Gender Equality, Marlene Schiappa. Thank you for joining us, Marlene!
We'd also like to thank ZipCar for providing our awesome Pride special vehicles!
The SF LGBT Center had a presence at the 2018 Trans March and the Dyke March as well. We'll be sharing our photos from our #HireTrans photo shoot shortly. Thanks to all staff and volunteers who participated!
Click here to view our SF Pride Parade Flickr photo album.
++++++
It's been quite a challenging year. And, that is why this year's Pride March is so important. It's time to show our strength as a community; to be visible, proud, connected and unified!
Join the SF LGBT Center contigent on Sunday, June 24, 2018, as we proudly march in the San Francisco Pride Parade; celebrating diversity, community, and resilience.
The first 100 people who register to march with us will receive a FREE t-shirt featuring the SF LGBT Center's new logo. Register today!
(PLEASE NOTE: T-shirts will be distributed at the Parade meeting point on Sunday and will not be held for no-shows. No exceptions!)
Parade Details:
For marchers who have mobility/accessibility needs, the Center will be operating a vehicle that people can ride in for the entire or a portion of the march (note: seats are not guaranteed, but will be prioritized for those with physical needs).
The Center contingent will also be providing snacks and water.
Our contingent will need a few volunteers to act as contingent/wheel monitors during the march. If you are interested in training to be a contingent monitor or wheel monitor for our vehicle, please indicate that when signing up.
This volunteer role requires staff approval and an online training video/quiz.
General Pride Information:
SF Pride Parade takes place Sunday, June 24, 2018.
The Parade begins at 10:30am at Beale and Market.
The Parade ends approximately at 3:00pm at 8th and Market.
We will be operating a vehicle for contingent members who would need to be seated during the parade (space is limited!)
Tips for marching at SF Pride: Arrive at our staging area (TDB) by call time (TDB, usually by 10:00am) to march with the Center. Bring water, but no glass bottles. Wear comfortable shoes! Wear/bring sunscreen and a jacket!
Thank you and happy Pride!
Back to Blog