Unveiling our new Center mural, Joy is the Fuel!
As part of the SF LGBT Center's mural project series, we are thrilled to announce our partnership with Alma Landeta (they/them), who will be installing a new mural on the exterior of the Center's building by the end of July 2023. Alma is a mixed-race, Cuban American, queer multidisciplinary artist and educator whose work seeks to build community through the exploration of intersectional identities. Their work primarily brings attention to the importance of bodily autonomy for queer and trans people. "We are thrilled to announce queer artist and educator Alma Landeta as our newly selected muralist for the Center's ongoing mural project. At a time when queer and trans people are facing a barrage of legal discrimination and hatred, Alma's vision honors the spaces where queer joy can flourish and how important joy is to fuel our collective action. This mural serves as a powerful reminder of how queer joy binds, nourishes, and strengthens us." – Jennifer Valles, Director of Programs at SF LGBT Center.
"I'm so excited to be chosen as the next muralist for the SF LGBT Center. As a mixed-race, Cuban American, and queer artist, I'm honored to partner with an organization that embraces and embodies queer artistry and its far-reaching impact. This new mural, Joy is the Fuel, is inspired by those precious and fleeting moments of joy surrounded by queer community on the dance floor. I want to honor those sacred communal spaces that bring much-needed joy for our community," says muralist Alma Landeta. Titled Joy is the Fuel, the mural depicts a queer dance party and speaks to how queer joy is the fuel for our collective strength. According to Alma, "As attacks on queer and trans people continue to rise, it is when we come together that we can celebrate our resilience. We dare to be joyous in the face of violence. Queer dance parties may seem trivial—but with so much at stake for LGBTQ people right now, it is so much more. It is visceral; it is urgent; it is necessary to be joyous together. Through this mural, I hope queer and trans people feel seen and loved."
Alma was selected from a diverse pool of muralist candidates who submitted project proposals through an open callout for new mural artists in 2022. After months of reviewing mural submissions based on the artists' vision for the mural, alignment with Center values, community involvement, and how their artistic point of view connects to our local community's interests, our mural committee, led by our new Associate Director of Cultural Programs, Timothy Hampton, and comprised of key Center staff with a background in arts or incredibly passionate about amplifying local queer artistry, selected Alma, who accepted the project in June 2023. We believe in compensating artists for their livelihood and properly compensated Alma for this project. "I'm so grateful to lead the expansion of our arts & culture offerings through our new Cultural Programs department. With the mural project being one of our first major community offerings, it was essential for us to partner with an artist whose concept harmonizes with the Center's mission to support local queer artistry. Alma's vision sparked a fire for us, and we look forward to our multi-year partnership with such a talented artist and to continue providing a platform for even more LGBTQ+ artists in the years to come." – Timothy Hampton, Associate Director of Cultural Programs at SF LGBT Center
We are excited to spotlight Alma's vision and artistry with our community. As we welcome Alma's era, we're grateful to Juan Manuel Carmona and Simon Malvaez for their incredible legacy through Queeroes. Over the last two years, they sparked love, hope, and celebration for our community and have grown as prominent queer and Latino artists in the SF and global art scene.
Help us celebrate our 2023 artist, Alma Landeta, today! Be sure to follow along on our social media channels, where we'll share behind-the-scenes content throughout the week as Alma brings this mural to life.
PS: Please join us on Tuesday, July 25th, at the SF LGBT Center to celebrate the unveiling of our newest building mural, Joy is the Fuel, by the incredible artist and educator Alma Landeta! Drop by the Center anytime between 4-6 pm PT to meet and snap a photo with Alma and the new mural. RSVP HERE. We're also hosting a raffle via social media! Be sure to tag the Center in any photo or video you post with Alma and the mural, and you'll be entered into a drawing to win a free Center t-shirt and fan.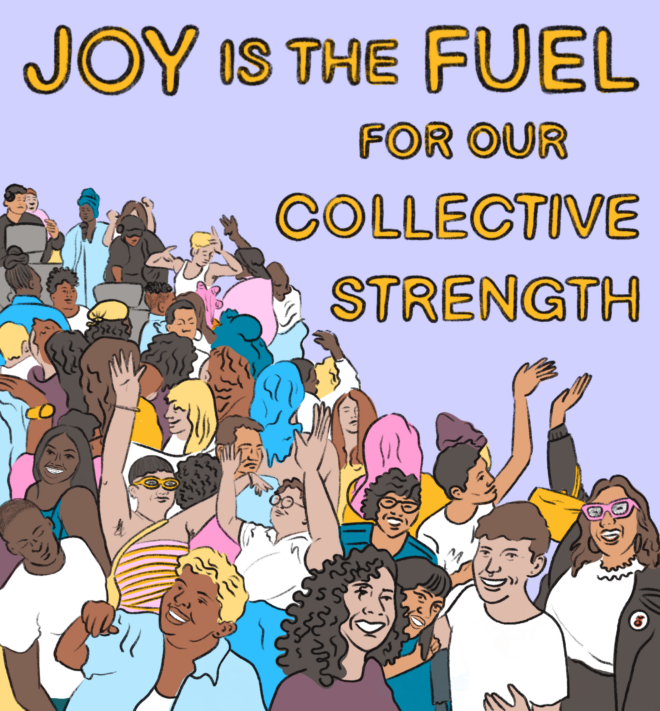 Image is a concept sketch of new mural, Joy is the Fuel, by artist Alma Landeta
Back to Blog