What.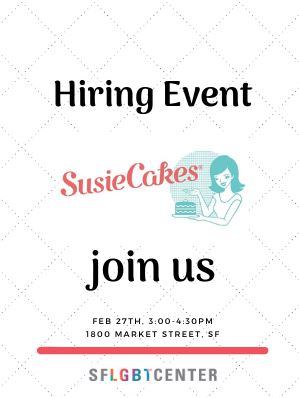 SusieCakes Hiring Event
When.
Thursday, February 27
3:00PM – 4:30PM
Where.
SF LGBT Center
1800Market
Job-seekers are invited to the Center on February 27th from 3:00 PM – 4:30 PM for a hiring event with a recruiter from SusieCakes!
Job-seekers interested in a guest services or management position will have the opportunity to interview for positions on-the-spot. *You must bring an updated resume*
Link to SusieCakes online job postings and application here.
SF Center staff will be available to answer questions as well as provide any assistance needed during the event.Interested applicants are highly encouraged to take advantage of the Employment Services offered at the SF LGBT Community Center and take part in mock interviews with SF LGBT Community Center staff. Click here to book an appointment.
Please be dressed in interview appropriate attire (business casual is fine). You will be interviewed during the event and so must be presentable.