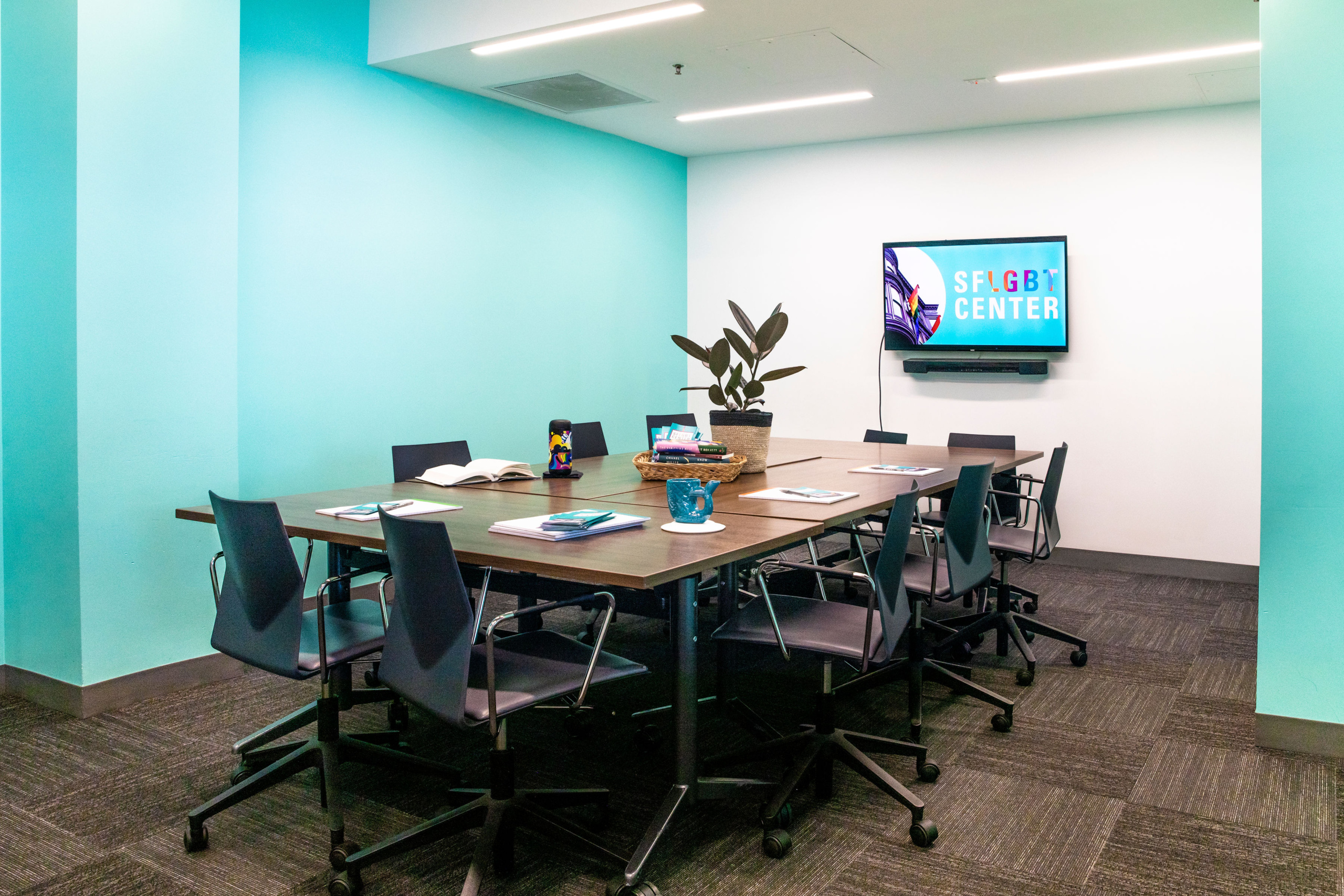 Overview
Room 203 is designed to be the perfect boardroom but can be reconfigured for various creative uses. As our most budget-friendly room, it is a favorite for support groups and small board meetings.
Room 203 is our smallest room in the rental program and offers everything you need for a successful board meeting or retreat. Its carpeted floors, rolling padded chairs, and soft aqua/teal colored walls make for a comfortable space for long sessions. Translucent shades on the window/walls facing the lobby may be opened or closed to make the area more or less private. Room 203 works wonderfully as a conference breakout room or a behind-the-scenes greenroom for event holders to stage items for a more significant event in a neighboring space.
We offer competitive rental rates and special discounts for nonprofits. Please email us at roomrentals@sfcenter.org or call 415-865-5631 if you are interested in any of our rooms.
Ideal For
Board meetings for around 10 people
Retreats for about 8 people
Support groups for about 15 people
Video conference meetings for about 8 people
Training presentations for about 20 people
During a larger event: volunteer space, green room, photo booth, or activity space (gaming, hang out area, creation space, etc.)
Equipment Options
Furniture is configured with the layout of your choice and ready for you when you arrive (tables and chairs are free)
Mounted 51" flatscreen TV or sitting projector/standing tripod projection screen to connect to your computer or our DVD player
Sound from soundbar on the TV mounted on the wall
Rolling vertical whiteboard
Outlets for power inside the room
Phone line and speakerphone
Wifi (free) or ethernet cable for direct internet access
Podium
Please note that there are additional fees at varying rates for renting equipment.
Accessibility
All common areas and rented spaces at the Center are ADA-compatible. Entry to the building has an ADA push-button to open the door. Two elevators are available for use in the 1st-floor lobby and open just in front of the Second Floor Lobby.
Bathroom doors on the 2nd floor are held open during event times. Bathrooms on the 1st floor are kept open at all times.
We strive to be a scent-free building for those sensitivities to perfumes. We request that anyone with access requests or questions contact us directly with at least 72 hours' notice to ensure that we meet their needs: 415-865-5631 or roomrentals@sfcenter.org.
About the Building
The SF LGBT Center building melds the modern and the historical. The East side of the building is the last surviving Victorian on Market Street, having narrowly survived the fire from the 1906 earthquake. In 2002 the Center joined together the modern neighboring building with the Victorian. In April 2017, we held our ribbon-cutting ceremony after a year and a half of renovations to the building, providing whole new event and meeting spaces and bringing in new local service providers to be housed within our walls.
We encourage all event attendees to utilize the Center's many community service programs. Please see what services might relate to your event here. Our building is temperature-controlled, and most electricity is sourced from our rooftop solar panels.