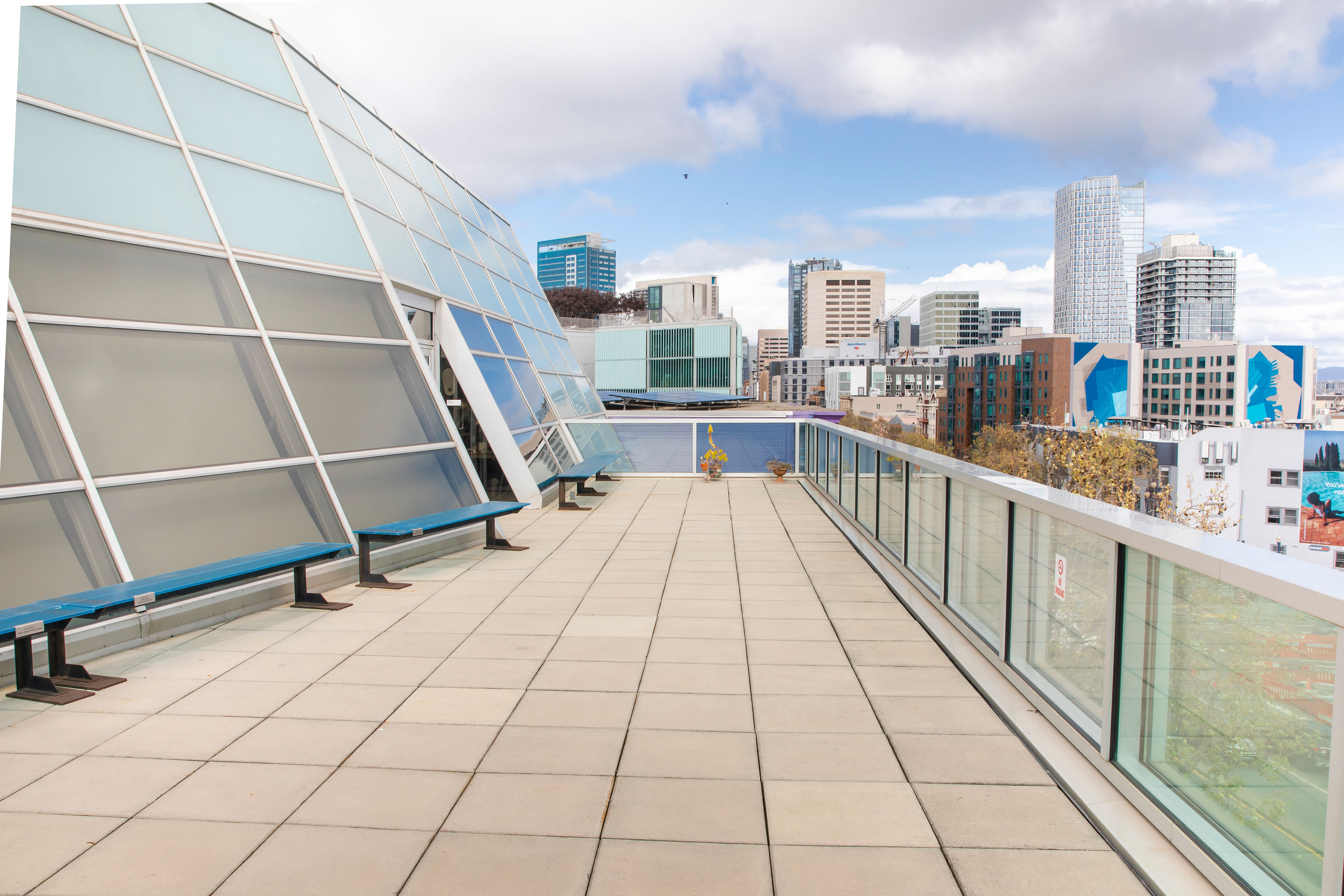 Overview
The terrace is a secluded space with a view overlooking the city on the 4th floor of our building. This is one of our most private event spaces! Our facilities staff can arrange tables before the event to make for a V.I.P. cocktail party or networking area.
Accessible by elevators or stairs, the terrace hosts a concrete tile floor, sleek glass panel walls, and banisters. Benches line the outdoor space, and other seating can be arranged to accommodate sitting or standing events.
The terrace's unique rooftop view of the Castro and surrounding neighborhoods make it a breath of fresh air and a great party breakout space for larger events. See more information below-regarding equipment options.
We offer competitive rental rates and special discounts for nonprofits. Please email us at roomrentals@sfcenter.org or call 415-865-5631 if you are interested in any of our rooms.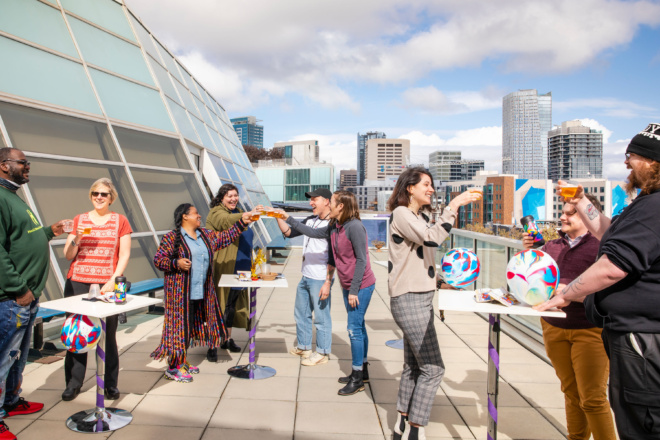 Ideal For
Social gatherings/networking events and cocktail parties


Happy Hour gatherings

Breakout space

Lunch gatherings

Photo Booth space
Equipment Options
Furniture is configured with the layout of your choice and ready for you when you arrive (tables and chairs are free)
Outlets are available upon request
Wifi (free) or ethernet cable for direct internet access
Please note that there are additional fees at varying rates for renting equipment.
Accessibility
All common areas and rented spaces at the Center are ADA-compatible. Entry to the building has an ADA push-button to open the door. Two elevators are available for use in the 1st-floor lobby and open just in front of the Second Floor Lobby.
Bathroom doors on the 2nd floor are held open during event times. Bathrooms on the 1st floor are kept open at all times.
We strive to be a scent-free building for those sensitivities to perfumes. We request that anyone with access requests or questions contact us directly with at least 72 hours' notice to ensure that we meet their needs: 415-865-5631 or roomrentals@sfcenter.org.
About the Building
The SF LGBT Center building melds the modern and the historical. The East side of the building is the last surviving Victorian on Market Street, having narrowly survived the fire from the 1906 earthquake. In 2002 the Center joined together the modern neighboring building with the Victorian. In April 2017, we held our ribbon-cutting ceremony after a year and a half of renovations to the building, providing whole new event and meeting spaces and bringing in new local service providers to be housed within our walls.
We encourage all event attendees to utilize the Center's many community service programs. Please see what services might relate to your event here. Our building is temperature-controlled, and most electricity is sourced from our rooftop solar panels.