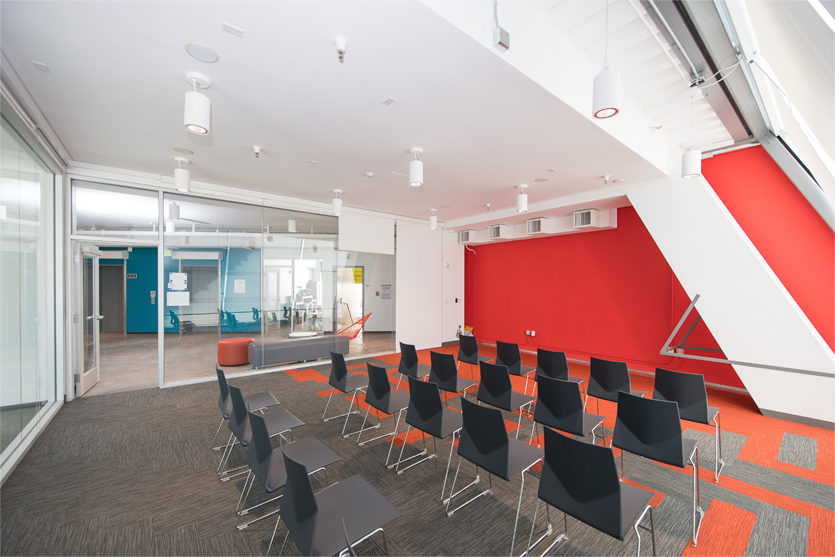 Overview
From social mixers to board meetings, and from retreats to exams, room 201 is versatile and comfortable in many configurations.
Room 201 is a light-filled modern room with floor to ceiling and wall to wall windows for an open spaciousness within the 2nd floor lobby. Windows facing externally to Market street are fogged and have retractable shades to dampen the natural light if needed. Translucent shades on the window/walls facing the lobby may be opened or closed to make the space more or less private. Its location (front and center in the 2nd floor lobby) makes room 201 a popular room to hold public workshops and classes. Its size, filtered natural light, and versatility makes room 201 the ideal space for retreats and larger boardroom meetings of 12-20 people or presentations for 30-50 people. Room 201 also works wonderfully as a breakout room for conferences or an overflow room from the Rainbow Room due to its unique ability to have a camera feed, or mirrored presentation of the Rainbow Room and/or it's audio feed from mics, music, or video.
Room 201 has wall to wall carpeting and due to this carpeting, it has a few food/beverage restrictions within the space.
We offer competitive rental rates and special discounts for nonprofits. Please email us at roomrentals@sfcenter.org or call 415-865-5631 if you are interested in any of our rooms.
Uses
Most ideal for:
Public events
Board meetings for around 17 people
Retreats for around 20 people
Support groups for around 20 people
Workshops, classes, or presentations for around 40 people
Social gathering/networking or cocktail party for around 40 people
Performance space for an audience of around 30 people
During a larger event: a lounge space, tabling/resource fair, activity space (photo booth etc), overflow room (can receive live camera feed from Rainbow Room), or breakout space (conferences etc).
Equipment Options
Furniture is configured with the layout of your choice and ready for you when you arrive (tables and chairs are free)
Standard overhead speakers or PA system with microphone or aux input
Rolling flatscreen TV or sitting projector/standing tripod projection screen to connect to your computer, a live feed from the Rainbow Room, or our DVD player.
Rolling vertical whiteboard
Outlets are available along the red wall inside the room
Phone line and speakerphone
Wifi (free) or ethernet cable for direct internet access
Podium and/or stage riser
Accessibility
All common areas and rented spaces at the center are ADA compatible. Entry to the building has an ADA push-button to open the door. Two elevators are available for use in the 1st floor lobby and open just in front of room 201. The single doorway to the space can be propped open and is 35.5" wide. Bathroom doors on the 2nd floor are held open during event times. Bathrooms on the 1st floor are kept open at all times. We are striving to be a scent free building for those that have sensitivities to perfumes. We request that anyone with access requests or questions contact us directly with at least 72 hours notice to ensure that we meet their needs: 415-865-5631 or roomrentals@sfcenter.org.
Building Information
The SF LGBT Center building is a melding of the modern and the historical. The East side of the building is the last surviving Victorian on Market street, having narrowly survived the fire from the 1906 earthquake. In 2002 the center joined together the modern neighboring building with the Victorian. In April 2017 we held our ribbon cutting ceremony after a year and half of renovations to the building, providing whole new event and meeting spaces and bringing in new local service providers to be housed within our walls. We encourage all event attendees to take advantage of our many community service programs onsite here at the center. Please see what services might relate to your event here. Our building is temperature controlled and most electricity is sourced by our rooftop solar panels.