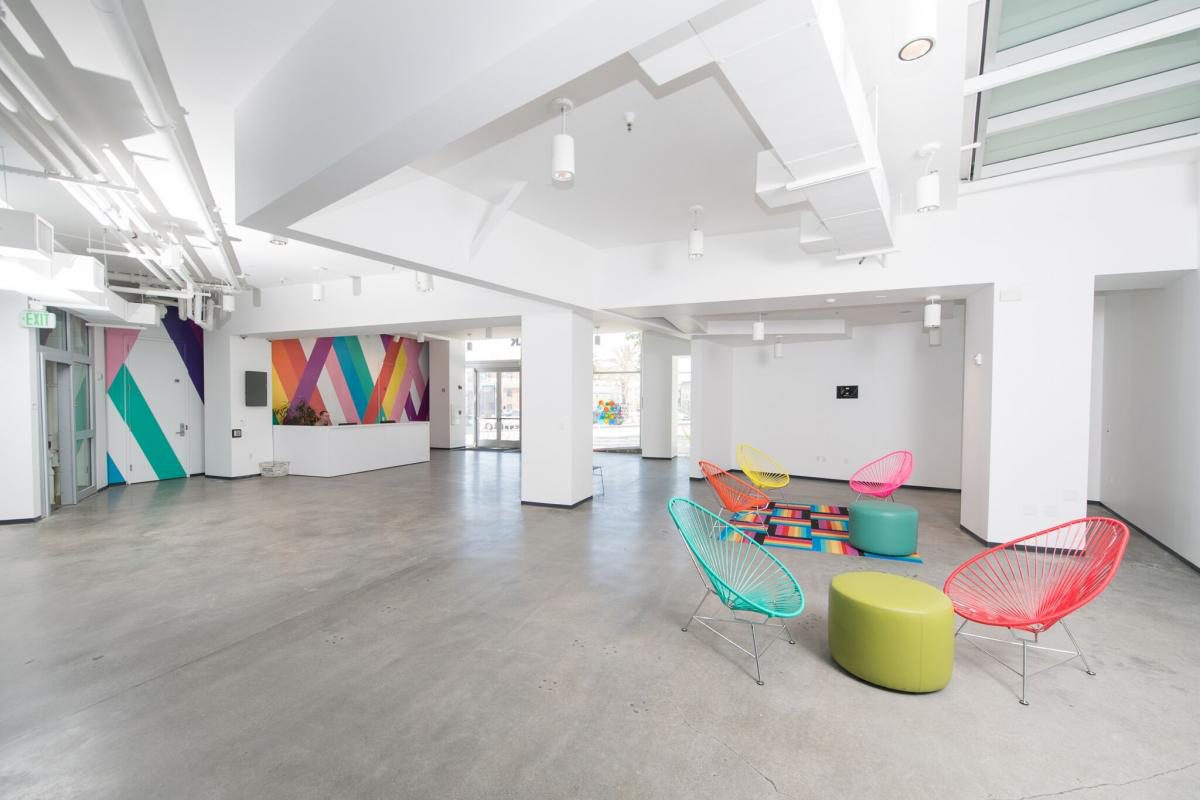 Overview
The gallery is a super dynamic central space just off our 1st building entrance with the ability to be open or closed off from the lobby due to it's reconfigurable walls. Throughout the year our Community Programs department oversees a wide variety of art installations in the gallery, which is open to the public when no events are reserved there.
Two walls within the gallery hold the work by the artist(s) and two walls of the gallery are made of glass panels, which facilities staff can move to provide a closed room or have it be an extension of the lobby. It is possible to have some, all, or no panels in place for your event (making it an expandable space if you also rent the lobby). The panels are to be moved by facilities staff only and must be arranged before the event. This is the least private of our event spaces, although (with panels and doors closed) can be quite insulated from sound in the lobby. The gallery has a concrete floor and white walls with a small skylight fed from the 2nd floor lobby and is completely reconfigurable. Please be aware that art exhibits may contain topics or imagery that some might be sensitive to.
It's unique ability to feed audio to or from other rooms in the building makes this a great party breakout space from larger events in the Rainbow Room. See more information below regarding equipment options.
Due to its high visibility to the general public, alcohol cannot be served within line of site to the street.
We offer competitive rental rates and special discounts for nonprofits. Please email us at roomrentals@sfcenter.org or call 415-865-5631 if you are interested in any of our rooms.
Uses
Most ideal for:
Events related to arts and culture
Public events
Workshops and presentations for around 30 people
Performance space for an audience of around 20 people (50 if also renting the lobby)
Board meetings for around 15 people
Social gatherings/networking events and cocktail parties
Equipment Options
Equipment options:
Furniture is configured with the layout of your choice and ready for you when you arrive (tables and chairs are free)
The glass panels that enclose the room can be left partly open, completely open (zero separation from the 1st floor lobby), or completely enclosed. Configuration must be arranged beforehand.
Standard overhead speakers or PA system with microphone or aux input (or a live audio feed from the Rainbow Room or room 201)
Rolling flatscreen TV or sitting projector/standing tripod projection screen to connect to your computer or our DVD player.
Rolling vertical whiteboard
Outlets are available upon request
Phone line and speakerphone
Wifi (free) or ethernet cable for direct internet access
Podium and/or stage riser
Accessibility
All common spaces and rentable rooms at the center are ADA compatible. Entry to the building has an ADA push-button to open the door. The gallery, when not all panels are in place has zero obstructions to entry. When all panels are in place, two doors at opposite ends of the space are pull-to-open/enter and push to exit. Doorways are 41" wide and close automatically. Bathrooms on the 1st floor are to the left of the elevators and the doors are kept open at all times to allow access. We are striving to be a scent free building for those with sensitivities to perfumes. We request that anyone with access requests or questions contact us directly with at least 72 hours notice to ensure that we meet their needs: 415-865-5631 or roomrentals@sfcenter.org.
Building Information
Building information:
The SF LGBT Center building is a melding of the modern and the historical. The East side of the building is the last surviving Victorian on Market street, having narrowly survived the fire from the 1906 earthquake. In 2002 the center joined together the modern neighboring building with the Victorian. In April 2017 we held our ribbon cutting ceremony after a year and half of renovations to the building, providing whole new event and meeting spaces and bringing in new local service providers to be housed within our walls. We encourage all event attendees to take advantage of our many community service programs onsite here at the center. Please see what services might relate to your event here. Our building is temperature controlled and most electricity is sourced by our rooftop solar panels.